News and Media
June 7, 2017
The Michigan Department of Environmental Quality (MDEQ), Oil, Gas, and Minerals Division (OGMD), is holding a public meeting on Thursday June 8, 2017, from 6:00 P.M. to 9:00 P.M at the Westwood High School auditorium, 300 Westwood Drive, Ishpeming, Michigan 49849, on the Eagle Mine LLC (Eagle), Eagle East Mining Permit Application Amendment. The MDEQ will also accept written public comment on the request for amendment following the public meeting until 5:00 PM, July 6, 2017. The Mining Permit Application Amendment and other documents may be accessed on the following web page(s): http://www.michigan.gov/deq/0,4561,7-135-3311_18442-359902–,00.html, under "Applications on File."
The Community Environmental Monitoring Program (CEMP) continues to follow new developments at Eagle Mine and the Humboldt Mill.  CEMP actions related to the Eagle East development include installation of a new groundwater monitoring site northeast of Eagle Mine and north of the Eagle East deposit between Eagle Mine and the Salmon Trout River, a new partnership with the Keweenaw Bay Indian Community (KBIC) to continue monitoring of the groundwater seeps/headwaters of the Salmon Trout River, and a new partnership with Geospatial Research Scientists from the Michigan Technological University (MTU) Great Lakes Research Center who are currently analyzing results from 5+ years of environmental monitoring at Eagle Mine and the Humboldt Mill (results coming soon).
Please contact Superior Watershed Partnership for additional information at (906)228-6095 ext. 13, or geri@superiorwatersheds.org.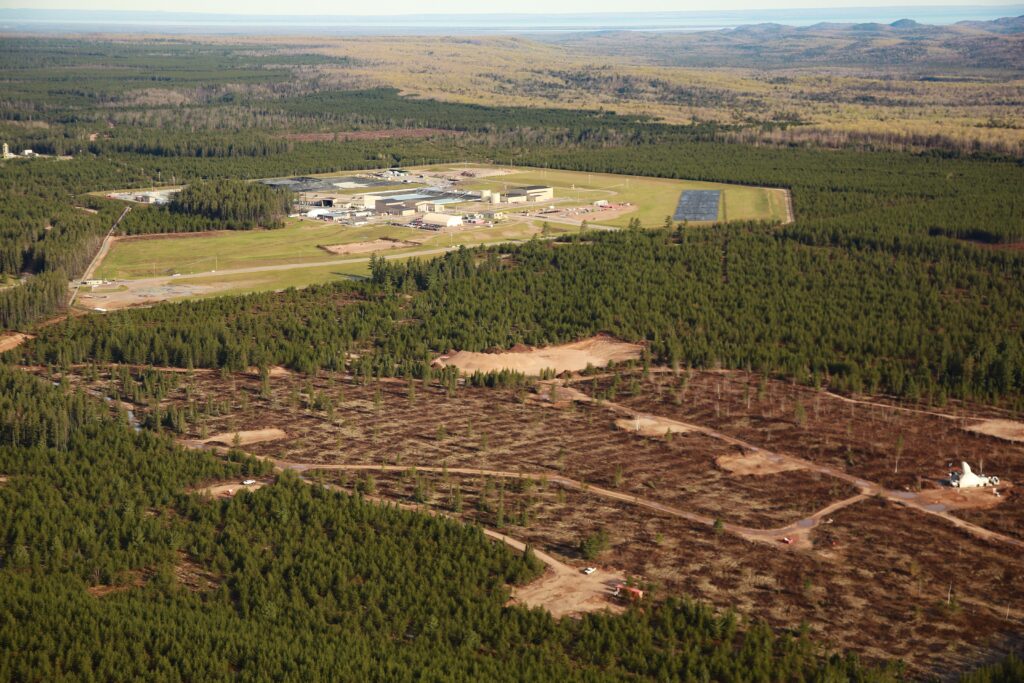 Photo by Chauncey J. Moran
April 12, 2017
Click here for a direct link to Lundin Mining's full press release.
March 21, 2017
Based on a review of the available information and public comments, the SWP believes there is a need to install additional observation wells to better understand the mine's potential impact on groundwater quality down gradient from the mine treated water infiltration system. SWP will be working closely with partners to determine the final location over the next month.
Please contact SWP for suggestions and additional information at (906)228-6095 ext. 13, or geri@superiorwatersheds.org.
September 23, 2016
On Tuesday September 13th, Eagle Mine experienced a power failure that resulted in the temporary shutdown of the water treatment facility. During the outage, water was not discharged.  During outages, Eagle's standard operating procedure (SOP) requires operators to shut down the flow of water to the inline pH meters located on the discharge line.  Upon restoration of power, effluent was discharged for fifteen minutes before it was noted that the flow to the pH meters was never restarted. The pH of the effluent at the time of the power outage was 7.6 SU; however, once flow to the meters was restarted, the pH of the treated effluent was measured to be 9.3 SU, above the permit level of 6.5-9.0 SU. During that fifteen minute timeframe, approximately 4,500 gallons (300 gallons per minute) of effluent was discharged. The total volume discharged at a pH outside of the permit limit was 4,500 gallons or less but the exact amount is not known since it's unknown at what point the pH changed from 7.6 SU to 9.3 SU. This incident has resulted in a change in Eagle Mine's standard operating procedure, removing the requirement to shut off flow to the pH meters in the event of a power outage. SWP will continue to monitor this event and will provide any updates when/if available.
July 25, 2016
It's berry season in the Upper Peninsula, and as such, CEMP staff have been out collecting as part of monitoring efforts near Eagle Mine and the Humboldt Mill. During 2015, CEMP monitoring was expanded to evaluate concerns raised by the Keweenaw Bay Indian Community (KBIC) and other community members regarding potential impacts from mining operations on nearby edible plant species and species of high cultural value. Fruit bearing plants located near the Eagle Mine and Humboldt Mill were identified as a priority for the study. They included; blueberry, juneberry, chokecherry, pin cherry, raspberry, blackberry, strawberry, thimbleberry, cranberry, juniper berry, and wild rice.
During year one of this study, blueberry and raspberry fruit and plant tissue were collected for analysis. Year two berry collections are expected to include (but may not be limited to) blueberry, raspberry, blackberry and/or thimbleberry. For more information regarding the study design and for Year One (2015) results, click here.