News and Media
December 13, 2019
The new agreement was signed by the the Community Foundation of Marquette County, Eagle Mine, the Keweenaw Bay Indian Community, and the Superior Watershed Partnership on Thursday December 12, 2019. Click here for more.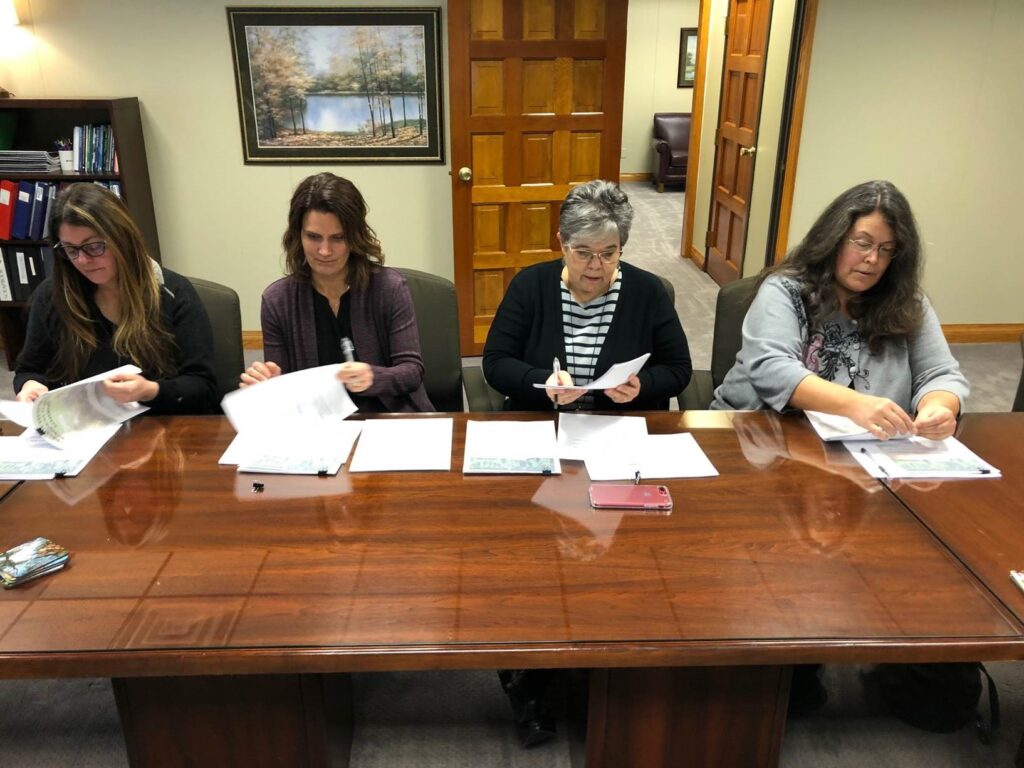 Seated from left to right are Geri Grant, Superior Watershed Partnership Senior Planner; Kristen Mariuzza, Managing Director of Eagle Mine; Gail Anthony, Community Foundation of Marquette County Chief Executive Officer; and Evelyn Ravindran, Keweenaw Bay Indian Community Director of Natural Resources.
May 13, 2019
The Keweenaw Bay Indian Community (KBIC) recently partnered with the Superior Watershed Partnership (SWP) and the Community Foundation of Marquette County (CFMC) to collaboratively conduct the Community Environmental Monitoring Program (CEMP), an independent monitoring program of Eagle Mine operations. The CEMP program began in 2012 and provides an independent and comprehensive picture of groundwater quality, surface water quality, air quality, plant life and more. To date, the program has focused primarily on Eagle operations at the mine site, the Humboldt Mill and along the designated transportation route.
The new partnership between KBIC and SWP enables CEMP monitoring to expand to include new mining exploration sites in the Sidnaw area and other sites in the western Upper Peninsula. KBIC Natural Resource Department (NRD) technical staff are working with SWP staff to prioritize and conduct all facets of CEMP monitoring and reporting. Prior to partnering on the CEMP program KBIC had requested that SWP include additional CEMP monitoring for unique sites such as groundwater seeps and traditional tribal foods such as blueberries and wild rice. KBIC and SWP have a long history of collaborating on other initiatives including environmental restoration projects and a summer conservation program for tribal youth. The Community Foundation provides an independent administrative and coordination role in addition to assisting with community outreach.
Eagle Mine is located in the Lake Superior watershed and straddles the headwater regions of the Salmon Trout River and Yellow Dog River. The Humboldt Mill is located in the Lake Michigan watershed where treated water from the Humboldt Tailings Disposal Facility (HTDF) is discharged to the Middle Branch of the Escanaba River. 2019 marks the eighth year of CEMP monitoring and the sixth year of monitoring under the "operational" phase of the mine.
CEMP utilizes EPA-approved independent laboratories to analyze monitoring samples collected from hundreds of sites in and around Eagle Mine, Humboldt Mill and the transportation route. The CEMP program consists of four main components: 1) Verification Monitoring, which includes verifying the environmental monitoring conducted by Eagle Mine as required by state permits, 2) Additional Monitoring, which includes environmental monitoring done by SWP and KBIC over and above required state permit monitoring, 3) Publication of Monitoring Results, and 4) Community Outreach. All historic and current CEMP monitoring data can be viewed on the CEMP website (swpcemp.org). The SWP will be launching a new, easier-to-use CEMP website with interactive maps in mid-May.
FOR MORE INFORMATION, PLEASE CONTACT: 
Carl Lindquist, SWP Executive Director
906-228-6095 ext. 14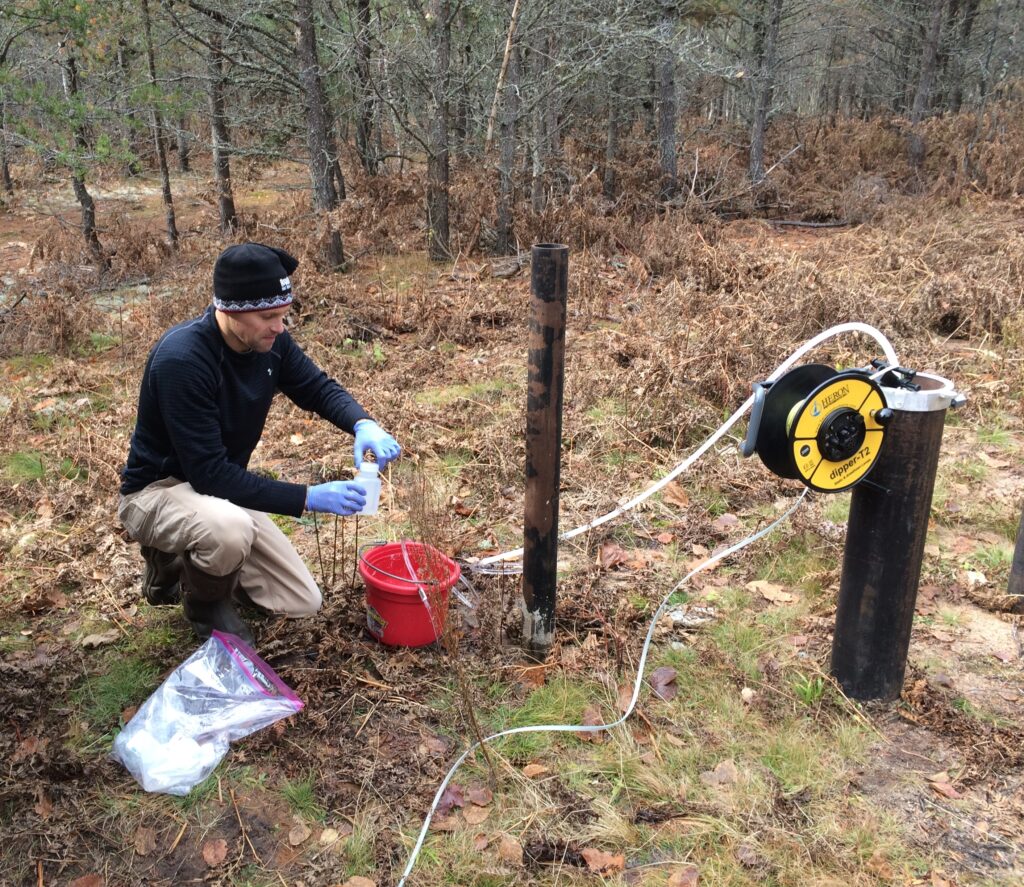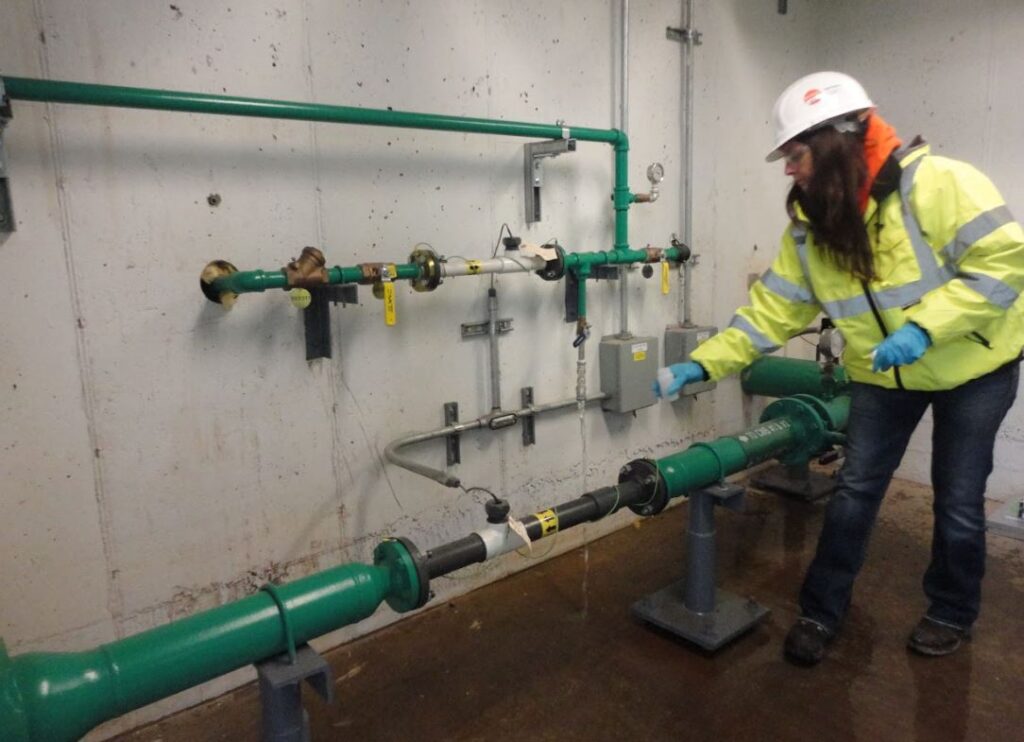 February 14, 2019
Air quality data from the Powell Township air station will soon be available on the CEMP website. Real-time meteorological data at the station can be viewed here.
November 2, 2018
The Michigan Department of Environmental Quality (DEQ)  recently issued Eagle Mine a modified National Pollutant Discharge Elimination System (NPDES) permit authorizing direct effluent discharge from the Humboldt Mill to the Escanaba River (effective November 1, 2018).
CEMP is currently monitoring all of the effluent parameters included in the modified permit as well as nine additional water quality parameters that are not included in the permit.
To view the NPDES permit, click here.
August 9, 2018
During 2015, CEMP monitoring was expanded to evaluate concerns raised by the Keweenaw Bay Indian Community (KBIC) and other community members regarding potential impacts from mining operations on nearby edible plant species and species of high cultural value. Fruit bearing plants located near the Eagle Mine and the Humboldt Mill were identified as a priority for the study. They include: blueberry, juneberry, chokecherry, pin cherry, raspberry, blackberry, strawberry, thimbleberry, cranberry, juniper berry, and wild rice. Specific objectives of the monitoring program include:
Locate and identify edible and culturally-important plant species in the immediate vicinity/adjacent to the Eagle Mine and Humboldt Mill sites.
Obtain plant tissue (berries, leaves, and/or roots) for analysis at a certified laboratory.
Evaluate concentrations of various metals observed in tissue samples and compare them to US Environmental Protection Agency's (US EPA) oral tolerable intake values (TDI), and/or the Food and Drug Administration's (FDA) recommended Daily Values (DV).
Use data/results to monitor short-term and long-term changes that may indicate impacts from mining activities.
The sample set collected during the 2015-2017 field seasons provides baseline data regarding metal concentrations in blueberry, raspberry, blackberry, strawberry, and wintergreen plants and/or berries collected near the Eagle Mine and Humboldt Mill sites. Referencing these data in future years may help to support whether or not bioaccumulation of metals is occurring in these plant species. Due to a small sample size and various other potential confounding factors including regional variation, species specific differences, insufficient length of study, and potential alternate sources of pollution, any differences noted between control and test samples cannot be reliably attributed to mining activities at this time.
A complete data summary report for the 2015-2017 field season can be accessed here.