Uncategorized
December 13, 2019
The new agreement was signed by the the Community Foundation of Marquette County, Eagle Mine, the Keweenaw Bay Indian Community, and the Superior Watershed Partnership on Thursday December 12, 2019. Click here for more.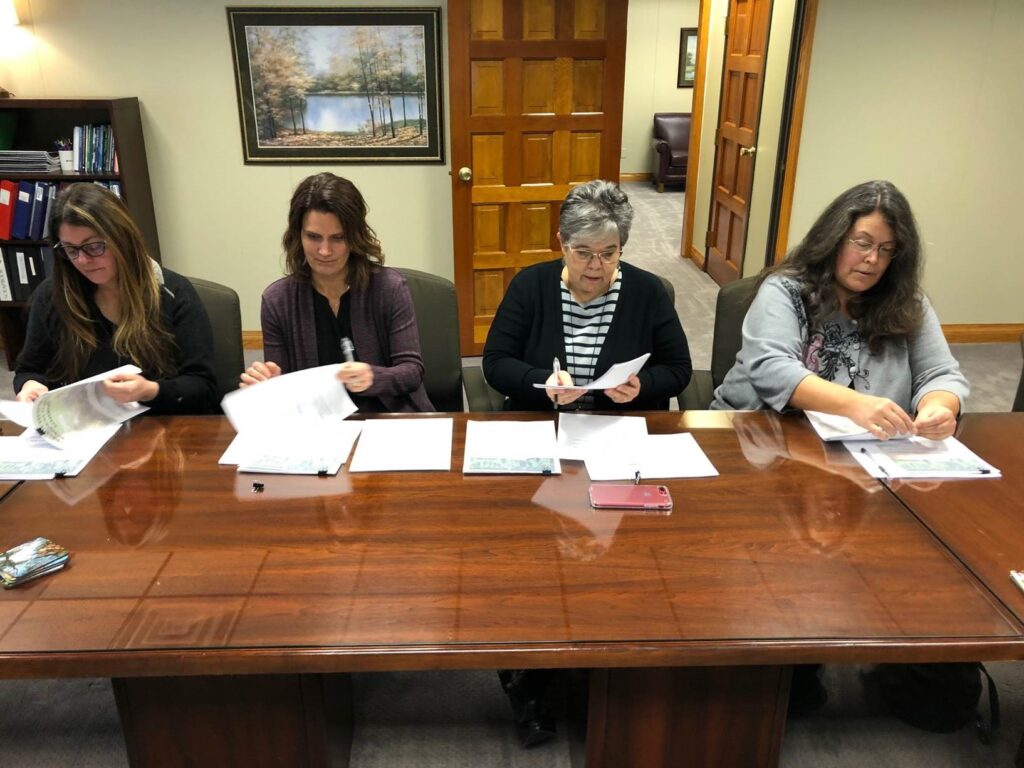 Seated from left to right are Geri Grant, Superior Watershed Partnership Senior Planner; Kristen Mariuzza, Managing Director of Eagle Mine; Gail Anthony, Community Foundation of Marquette County Chief Executive Officer; and Evelyn Ravindran, Keweenaw Bay Indian Community Director of Natural Resources.
November 2, 2018
The Michigan Department of Environmental Quality (DEQ)  recently issued Eagle Mine a modified National Pollutant Discharge Elimination System (NPDES) permit authorizing direct effluent discharge from the Humboldt Mill to the Escanaba River (effective November 1, 2018).
CEMP is currently monitoring all of the effluent parameters included in the modified permit as well as nine additional water quality parameters that are not included in the permit.
To view the NPDES permit, click here.
July 25, 2016
It's berry season in the Upper Peninsula, and as such, CEMP staff have been out collecting as part of monitoring efforts near Eagle Mine and the Humboldt Mill. During 2015, CEMP monitoring was expanded to evaluate concerns raised by the Keweenaw Bay Indian Community (KBIC) and other community members regarding potential impacts from mining operations on nearby edible plant species and species of high cultural value. Fruit bearing plants located near the Eagle Mine and Humboldt Mill were identified as a priority for the study. They included; blueberry, juneberry, chokecherry, pin cherry, raspberry, blackberry, strawberry, thimbleberry, cranberry, juniper berry, and wild rice.
During year one of this study, blueberry and raspberry fruit and plant tissue were collected for analysis. Year two berry collections are expected to include (but may not be limited to) blueberry, raspberry, blackberry and/or thimbleberry. For more information regarding the study design and for Year One (2015) results, click here.